Styling eyebrows and eyelashes Poznań
Beautifully enhanced facial features
Styling of eyebrows and eyelashes in Poznań are treatments that are able to guarantee an expressive, beautiful eye frame. Remember that a perfect browbone and spectacular eyelashes can completely change the look of your face – for the better, of course. It is these two elements that emphasize the features of the face to the greatest extent, giving it the desired expression.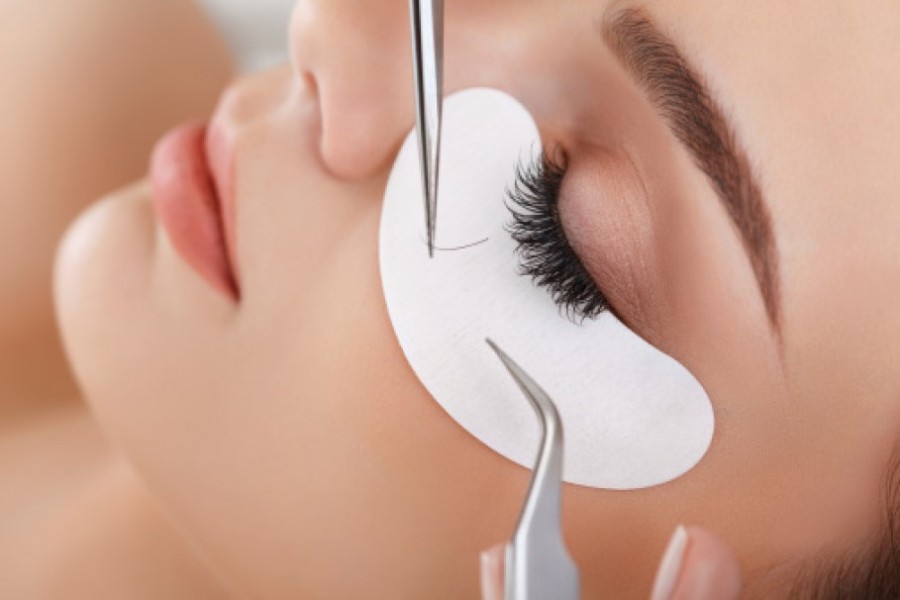 Stylization of eyebrows and eyelashes Poznań
is recommended to all ladies who want:
to bring out even more unique features of your beauty,
reduce the time you spend doing full makeup each day
be able to enjoy an attractive, well-groomed appearance regardless of the time and occasion
Styling eyebrows and eyelashes in Poznań
are extremely pleasant, relaxing, completely non-invasive and painless treatments. Our clients treat them as a moment of well-deserved pleasure, after which they can additionally enjoy a changed, fresh lookm!
What is the styling of eyebrows and eyelashes Poznań?
In our salon
styling of eyebrows and eyelashes Poznań
includes the following types of treatments:
regulating the eyebrows and giving them the desired shape.
eyelash and eyebrow henna (classic and powder) – henna allows you to darken the hairs on eyebrows and eyelashes and shape the eyebrow arch. It is also used to correct eyebrow defects and cover gray hair. Powder henna, unlike the classic henna, provides an extended coloring effect, which is why it is recommended primarily to ladies with light, delicate eyebrows. The dye stays on the hair for up to 6 weeks, and on the skin for a maximum of 2 weeks. Powder henna is made together with the geometry of the eyebrows and their regulation.
eyelash lift – this treatment consists of lifting and permanent curling of eyelashes, guaranteeing very natural effects. We recommend it especially to women with straight and thin eyelashes that cannot be curled effectively with traditional mascaras and eyelashes.
eyelash lamination (keratin facelift) – during lamination, your eyelashes will not only be curled and lifted, but also thickened and filled in places where there are defects. Both eyelash lifting and lamination can be combined with their coloring.
Styling eyebrows and eyelashes before and after the treatment
Coloring of eyebrows and eyelashes with henna, as well as lamination and eyelash lifting are treatments that do not require special preparations. After coloring with henna, remember to: do not use makeup remover for the first 48 hours, and do not rub or pull the hair. It is also recommended to avoid hair contact with shampoos, conditioners, soap for the first 24 hours, and also avoid visits to the swimming pool, sauna or solarium. Similar recommendations also apply to eyelash lifting / lamination. For the first 24 hours after the treatment, avoid rubbing the eyelashes, contact with steam (swimming pool, sauna, solarium, fitness), and painting the eyelashes and sleeping with the face facing the pillow.
The effectiveness of styling eyebrows and eyelashes Poznań
Styling Poznań eyebrows and eyelashes guarantees spectacular, dazzling effects, which is why it is regularly used by women of different age groups. It is a perfect solution both when you do not like everyday makeup, as well as when you lead an active lifestyle or plan a vacation or other type of trip, during which you may have difficulty applying makeup. The duration of the effects of styling Poznań eyebrows and eyelashes varies, depending, among others, on the type and color of hair, as well as the individual predispositions of each client. In the case of powder henna, the dye can guarantee darkening of the hair for up to 6 weeks (1-2 weeks on the skin). Ladies can enjoy the effects of lamination and eyelash lifting for an average of 6-8 weeks.
Contraindications for eyebrow and eyelash styling
Stylization of eyelashes and eyebrows Poznań
will not be performed in the case of:
skin injuries and diseases
inflammation around the eyes, eyelids, eyebrows
abrasions, cuts on the face
allergies to the preparations used during the treatment
conjunctivitis
psoriasis
fresh permanent makeup