Proper skin care should always begin with its in-depth, thorough cleansing. One of the treatments offered by aesthetic medicine is oxybrasion Poznań , a type of mechanical peeling during which we exfoliate calloused epidermis in a painless and non-invasive way (without the use of needles).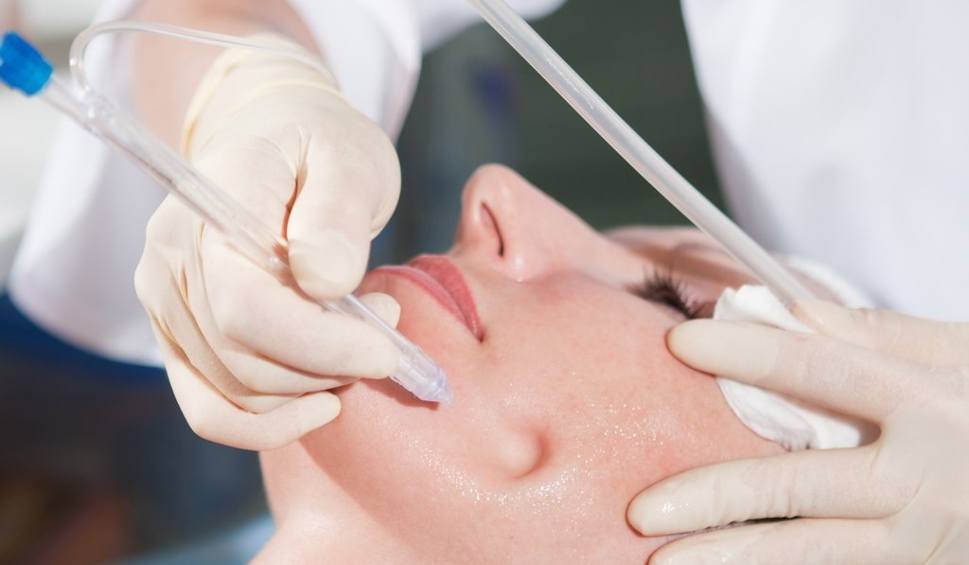 Oxybrazja Poznań
, also referred to as a milder, more delicate version of the microdermabrasion treatment, is especially recommended in the fight against:
skin contamination
with extended pores
acne (mainly rosacea)
blushing
tired, dry and dull gray skin
in vessels
Due to the more delicate course of oxybrasion in Poznań, people with acne and vascular or sensitive skin are very eagerly used. However, this treatment can be performed for all skin types – combination, oily, normal and regardless of age.
What is oxybrasion Poznań?
Oxybrazja Poznań , also referred to as oxygen-water microdermabrasion, is one of the types of mechanical peeling in which dispersed drops of saline are used to cleanse the skin perfectly. What distinguishes oxybrasion Poznań from diamond microdermabrasion and cavitation peeling, it is completely non-contact process. Oxygen along with the dispersed saline droplets are administered under pressure from the cylinder, and the nozzle does not come into contact with the skin at any time. Thanks to this, the procedure is highly hygienic, sterile and safe. The depth of exfoliation is always selected individually, taking into account the type of skin and a specific problem. Oxybrasion Poznań we start with removing make-up from the face, neck and décolleté. After carrying out the activities appropriate for obtaining even better, fuller effects, the treatment is completed with the application of an ampoule and a nurturing mask. The entire meeting usually takes about 60 minutes.
Oxybrasion Poznań before and after surgery
Implementation of oxybrasion Poznań does not need to be preceded by any special preparations. Even after the procedure, it is not necessary to give up everyday activities or use specific measures. However, we do not perform peeling during retinoid therapy (you should wait about half a year from the end of treatment) and after the treatment with acids (you should wait about a week).
Effectiveness of the oxybrasion treatment Poznań
Oxybrazja Poznań
is a multi-faceted treatment that guarantees effects in the form of:
for a deep, perfect cleansing and refreshing of the skin
improving the overall structure of the skin (hydration, softening of the epidermis)
hydration and oxygenation of the skin
strengthening the walls of blood vessels
skin tone improvement (toning, lightening, brightening)
stimulate the synthesis of collagen and elastin fibers
reduce acne lesions and inflammation
Admittedly, the effects of
oxybrasion performed in Poznań
are noticeable after just one treatment, this peeling is recommended to be performed in series of usually 3 to 10 treatments with a frequency of one treatment per week.
Contraindications to the oxybrasion treatment Poznań
Although
oxybrasion Poznań
is a 100% safe, sterile and non-invasive procedure that can be used even by pregnant women, it also has its own contraindications. These include in particular:
inflammation of the skin
bacterial infections
neoplastic diseases
sinus problems
psoriasis
cold sores
undergoing retinoid therapy
broken epidermal continuity