Enjoy your senses and soothe your mind with Medik8 specialist beauty treatments. Each treatment is carefully formulated to rejuvenate the skin, relieve everyday stress and provide a strong sense of relaxation with visible results for you and others. Continue to take care of your skin's changing needs. We recommend that you do 3 to 6 professional treatments along with proper home care to really see the maximum benefits.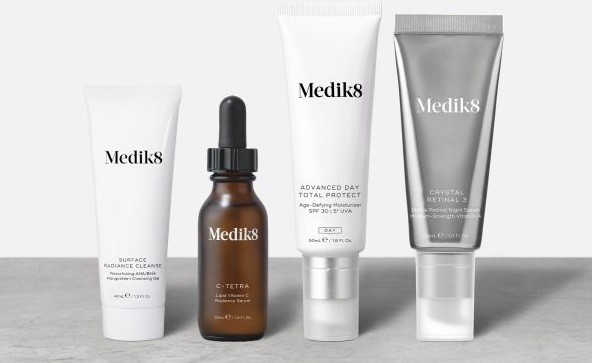 Medik 8 treatment for problematic, acne skin in Poznań
Care Medik 8 for problematic and acne-prone skin – a treatment ideally suited for people with skin problems on the face or neckline. Thanks to the Medik 8 treatments, your skin will be refreshed, regained its balance and will take on a radiant color. It will also help regulate the production of excess sebum and reduce visible skin eruptions.
Medik 8 Poznań sensitive skin treatment
Sensitive skin is an increasingly common problem among people. The conducted research shows that this phenomenon affects half of the population. The characteristic features of this skin are: tightness, itching, burning, stinging, noticeable dryness, extensive peeling of the epidermis, erythema, swelling or lumps. Allergic diseases are often characterized by similar symptoms or changes. The line between sensitive and allergic skin is very thin. Therefore, it is important to recognize your skin type well, which will then allow you to choose the appropriate care Medik 8 Poznań in our beauty salon.
Medik 8 Poznań treatment for mature skin
Free radicals attack mainly the skin, which is its protective shield against environmental influences. The effect of their long-term action is premature skin aging, manifested by the formation of wrinkles and discoloration of skin pigmentation, loss of elasticity and elasticity. Thanks to the use of Medik 8 for mature skin you can immediately feel the difference and see amazing effects. This unique treatment visibly lifts, rejuvenates and firms the skin, giving it a youthful appearance. Highly effective active ingredients combat the effects of chronological, chromatic and photoaging aging.