Massage is your well-deserved moment of relaxation and relaxation
We live fast and intensely today, almost constantly. Although our body keeps up with our pace of life on a daily basis, at some unexpected moment it can tell you "enough". If the moment has come when you especially need to relax, unwind, rest and escape from everyday worries, we invite you to our salon for massage Poznań . A unique, intimate meeting during which we will comprehensively take care of both your body and soul. Depending on your individual needs or problem, we can offer you a classic massage, relaxing massage , anti-cellulite massage or lifting massage of the whole body or only its selected area .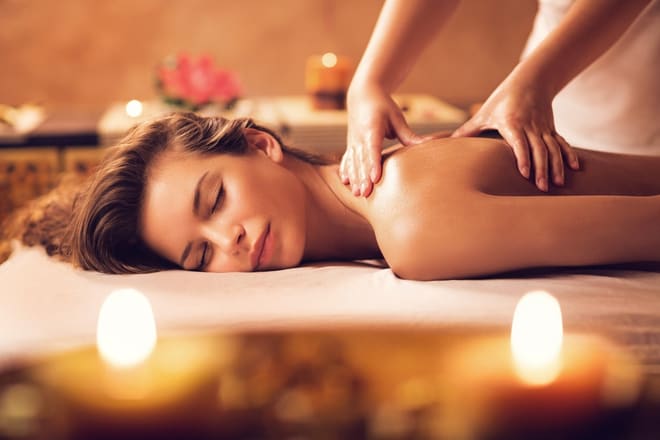 When do we recommend using
massage Poznań
? Especially when you want to:
relax and unwind, clear your mind,
reduce stress,
recover physically and mentally after an intense period,
fight fatigue,
to improve your overall well-being,
tone your body, improve skin elasticity and appearance,
prevent the formation of cellulite and wrinkles
get rid of muscle tension, muscle and spine pains
Massage Poznań is a procedure known and practiced for thousands of years, in which, as a result of special gripping techniques, such as pressing, kneading, patting, rolling or stroking, elastic deformation of the tissues occurs. Depending on the type of massage Poznań , we perform them at a slower or faster pace, with more or less force. Each movement is also characterized by great precision, symmetry and appropriate depth. During massage Poznań we always focus on your needs and individual problem. We can therefore perform a full body massage (Poznań comprehensive massage) or only in a selected area (Poznań partial massage) – incl. back, hands, neck, neck and feet. Currently, massage is used for physiotherapy, healing and relaxation purposes. The technique used will determine what exactly it will have. Massage in Poznań can, in particular, relax, regenerate, stimulate, prevent or reduce swelling and pain relief
Poznań massage before and after the treatment
Massages in Poznań are treatments that do not require any special preparations on your part. However, we recommend that you give up hard-to-digest meals before the scheduled meeting, and also ensure that your body is more hydrated. After massage Poznań , muscle pains may occur, especially when they remained in a state of increased tension for weeks or months. Painful muscles, however, are a natural, usually desired response of the body. As a rule, they last up to a few days. After massage Poznań you can immediately return to all previously performed activities.
The effectiveness of massage Poznań
Relaxation, calm, soothing, relieving stress, tension, pain – such feelings will accompany you right after the first massage in Poznań . Our treatments also improve blood circulation and supply skin cells with nutrients. As a result, it becomes firmer, more elastic and healthier. Massage also delays the aging processes in the form of, among others, wrinkles or cellulite. However, in order to enjoy such effects, regularity remains the key. Therefore, we recommend that you do not stop at only one massage in Poznań , but decide to have the entire series. The frequency and number of massages in Poznań are selected individually in each case, depending on its type, specific problem and the goal to be achieved.
Contraindications to massage Poznań
The non-invasive and safe course of
massage Poznań
unfortunately does not exclude situations in which this treatment cannot be performed. Contraindication to the massage is:
pregnancy
skin lesions and inflammation
varicose veins
atherosclerosis
hypertension
bacterial, viral, fungal diseases
fever
bleeding and haemorrhage tendencies
allergies to the preparations used
post-stroke status
heart disease
psoriasis