Needleless mesotherapy Poznań
Non-invasive nutrition and improvement of the skin condition thanks to mesotherapy
Do you dream of a rejuvenated, nourished and blemish-free skin? Needleless mesotherapy Poznań is a treatment that will guarantee you such effects in a completely non-invasive, painless way! A method that is an alternative to needle mesotherapy will allow you to take care of a healthy, young look and condition of the skin, without causing mechanical damage to the epidermis.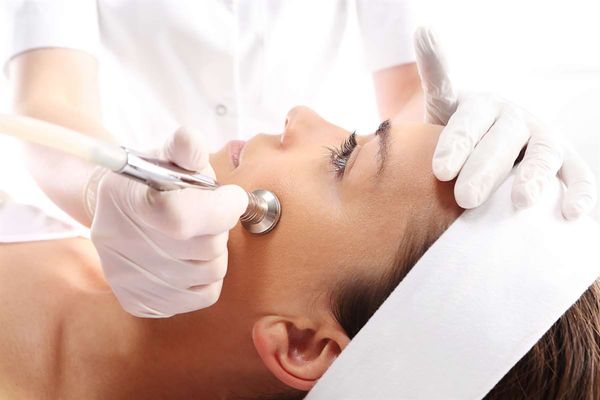 Needle-free mesotherapy in Poznań
is efficiency, safety and comfort. This treatment will help you:
firm the skin, improve its elasticity and tension
even skin tone, reduce discoloration
nourish and rejuvenate the skin, take care of its condition
eliminate dark circles under the eyes
narrow pores
shallow wrinkles and scars
No-needle mesotherapy Poznań can be applied to the skin of the face, neckline, neck, and also the skin of the hands. If you have contraindications to invasive procedures, this method will guarantee you maximum comfort and safety!
What is the Poznań needle-free mesotherapy?
Needle-free mesotherapy
, like
needle mesotherapy
, focuses on introducing the highest possible dose of nutrients (including amino acids, vitamins, antioxidants) under the skin, which are responsible for its nourishment, regeneration and improvement of condition. In this case, however, we do not use needles that cause micro-punctures for this task, but phonophoresis and electrical impulses generated by a special device applied to the skin. They non-invasively affect deep tissues and lead to the formation of microchannels in the cell membrane that increase its permeability. In this way, the active substances find a place for a free, smooth flow.
Needle-free mesotherapy in Poznań
we start with a thorough make-up removal of the skin of the face, neck and cleavage and the application of an individually selected ampoule. After introducing nutrients into the skin, the treatment is finished with the application of a caring mask, which will further enhance the desired effects. The duration of needle-free mesotherapy is usually from 60 to 90 minutes.
Needle-free mesotherapy Poznań before and after the procedure
Needle-free mesotherapy in Poznań is preceded by a consultation, i.e. a meeting during which we primarily rule out any contraindications to the use of electric waves. You cannot wear any metal objects during the procedure. After needle-free mesotherapy in Poznań to maintain the effects, you should remember to use the recommended nourishing creams and sunscreen creams, as well as introduce an appropriate, healthy diet and hydration. For the first few days after the treatment, excessive exposure to the sun, visits to the solarium, sauna or swimming pool is also not recommended.
Effectiveness of needle-free mesotherapy Poznań
Immediately after the treatment of head mesotherapy in Poznań Your skin will be deeply nourished, refreshed, smooth and firm. However, if you want to enjoy really spectacular and lasting effects, we recommend that you do not stop at one meeting, but decide on a whole series of treatments. The optimal number of meetings: 5-10, performed every 1-2 weeks.
Contraindications to the treatment of needle-free mesotherapy Poznań
A contraindication to the
needle-free mesotherapy treatment in Poznań
are the most common:
cardiological diseases
presence of metal elements in the body
pacemakers, implants
pregnancy
epilepsy
venous diseases
acute inflammation of the skin
bacterial, viral and fungal infections
neoplastic diseases
allergy to ingredients used in preparations
Needleless Mesotherapy Poznań Price list