Needle mesotherapy Poznań
Needle mesotherapy is a regenerated, nourished and rejuvenated skin
With age, the skin requires more and more care and more advanced, deeper and more careful care. Poznań needle mesotherapy is a treatment that has been enjoying great interest and recognition in aesthetic medicine for many years. A method with an extremely wide range of uses, which aims to regenerate, nourish, moisturize, brighten and rejuvenate your skin.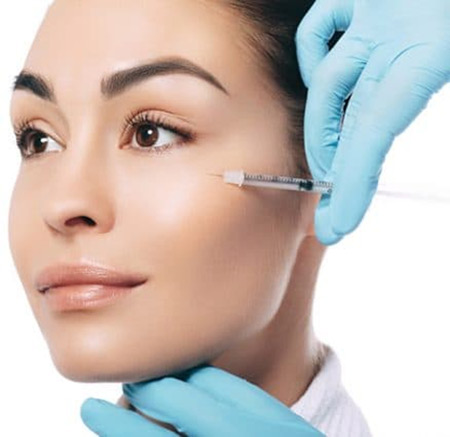 When should you decide on
needle mesotherapy
performed in our salon in Poznań? We recommend this treatment primarily to people struggling with:
loss of skin firmness, elasticity and its healthy glow
discoloration
acne scars
cellulite and stretch marks
with fine wrinkles
hair loss and the first signs of baldness
Needle mesotherapy Poznań
due to its wide spectrum of action, can cover not only the skin of the face, but also various other parts of the body (including the abdomen, buttocks), and the scalp.
What is needle mesotherapy Poznań?
During needle mesotherapy in Poznań , individually, specially selected nutritional and vitamin preparations (including mineral salts, hyaluronic acid, organic silica, peptides, amino acids) are introduced into the skin with a syringe. They are designed to stimulate the processes of renewal, regeneration of the skin and its nourishment. Thanks to precise punctures made at intervals of about 1 mm to a depth of 2-3 mm, the active substances reach the deep layers of the skin – where no standard cosmetic can be pressed. Needle mesotherapy affects the dermis, bypassing the epidermis. It is therefore extremely effective and characterized by intense action. The specific type of needle mesotherapy in Poznań and the active substances used in it are selected individually in each case, taking into account the different needs of the skin and the problem. Needle mesotherapy can lead to, inter alia, deep and long-lasting hydration, revitalization or lifting. Each treatment begins with cleansing, removing makeup from the area to be punctured and applying an anesthetic cream. We end needle mesotherapy with a gentle massage of the epidermis, which allows for even and very precise distribution of all ingredients introduced into the skin. You may feel a slight discomfort while making the punctures, but it is generally not a painful procedure.
Needle mesotherapy Poznań before and after the procedure
Before the procedure:
A few days before the procedure, it is not advisable to sunbathe, or to use hair removal, waxing or peels at the treatment site.
Blood thinners and alcohol should also be discontinued 24 hours before surgery.
After treatment:
Immediately after the treatment, the skin subjected to punctures may be slightly red, hypersensitive. There may also be minor bruises and a slight swelling. However, any discomfort disappears within a few days of the meeting.
For at least 24 hours after the treatment, no makeup should be applied if the skin was affected.
During the first few days after the treatment, it is not advisable to sunbathe, use the sauna, perform massages and use rough towels.
Use sunscreen and moisturizers, and drink plenty of water.
Effectiveness of needle mesotherapy Poznań
The effects of
needle mesotherapy in Poznań
are especially appreciated by ladies with thin, flabby and mature skin devoid of firmness and elasticity. In any case, thanks to punctures and intensive nutritional cocktails inserted into the skin, you can prepare for:
visible increase in tension, firming the skin
improving color, giving shine and a fresh, natural look
shallow wrinkles
reduction of scars and discoloration
improving microcirculation
rejuvenation, intensive skin hydration
slowing down the aging processes
Needle mesotherapy performed in Poznań
is a completely safe procedure, during which we use only certified preparations. The multidimensional action that guarantees spectacular, broad and quickly noticeable effects also speaks in its favor. However, in order to enjoy even more satisfying and long-lasting results, the skin should be punctured several times. Most often, we recommend 3 series of treatments performed at intervals of about two weeks and two additional sessions with monthly breaks. The effects themselves after completing the full series can last up to 3 years, provided that proper care and remedial treatments are performed.
Contraindications to the needle mesotherapy treatment Poznań
The basic contraindications for the
needle mesotherapy treatment in Poznań
are:
bacterial, viral, fungal diseases
pregnancy and breastfeeding
allergies to the preparations used
neoplastic diseases
skin diseases
diabetes
autoimmune diseases